Year 1 - Mrs Acheson and Miss McCarron
Traditional Tales
The Three Little Pigs - Build, Build, Build!
English
We will be exploring different versions of the the Three Little Pigs. In the True Story, the Wolf gives his version of events. The next version features three very nice Wolves and a very Bad Pig!
The children will take part in Drama activities and be helping some of the pigs by suggesting how to improve their houses. The straw and stick houses were made from plants - we will talk about this in our Science work.
The children will continue to work hard on the Year 1 common exception words - see the word mat above.
Maths
This half term our work involves multiplication and division. The children will use objects and pictures to help them work with repeated addition, groups of and arrays.
Computing/Art
The children shall be using Purple Mash and painting and creating different pictures of flowers and tree. The children will have to save and print their own work.
Science
We are investigating Plants including Trees. Please see your child's homework book for their new Knowledge Organiser. The KO provides you with all the 'knowledge' your child is required to learn in this topic.
PE
We have PE on Monday and Thursday.
All children will need a t-shirt, shorts and pumps for these sessions.
Children are not allowed to wear earrings in school. If they are worn they must be covered at all times.
Forest School
The children will continue to take part in our very popular Forest School activities on Thursday afternoons. The class is divided into two groups (Group A and Group B) and will attend Forest School on alternate weeks. Watch out for your letter giving dates for the different groups.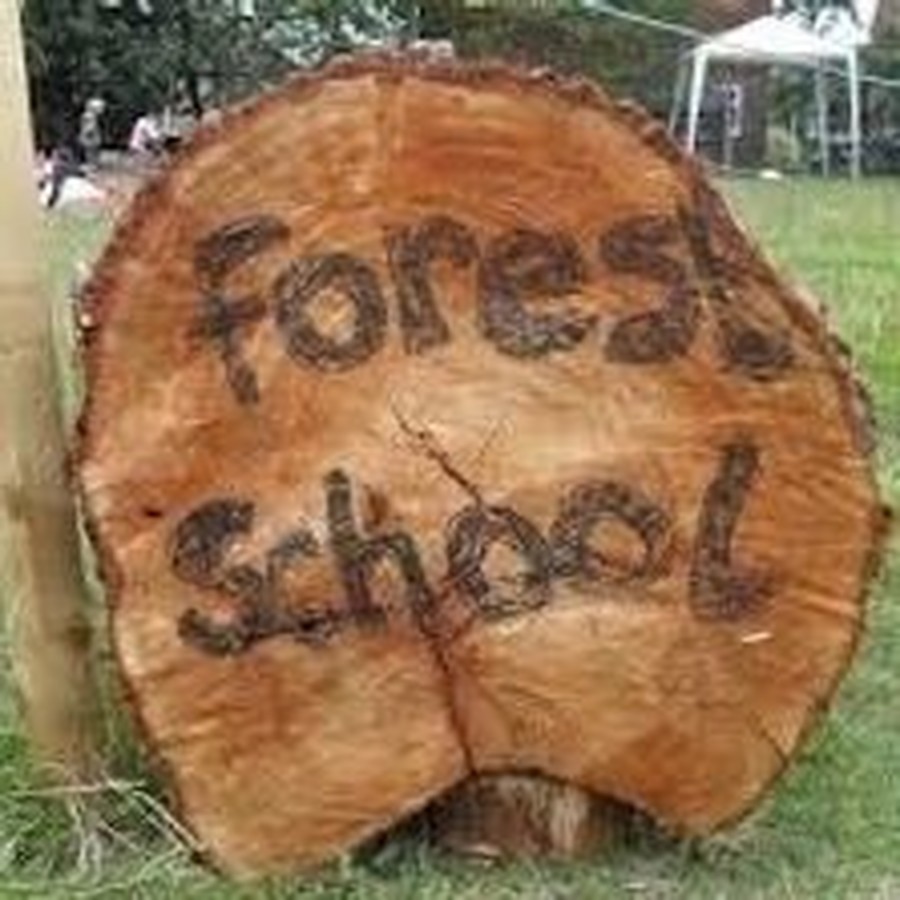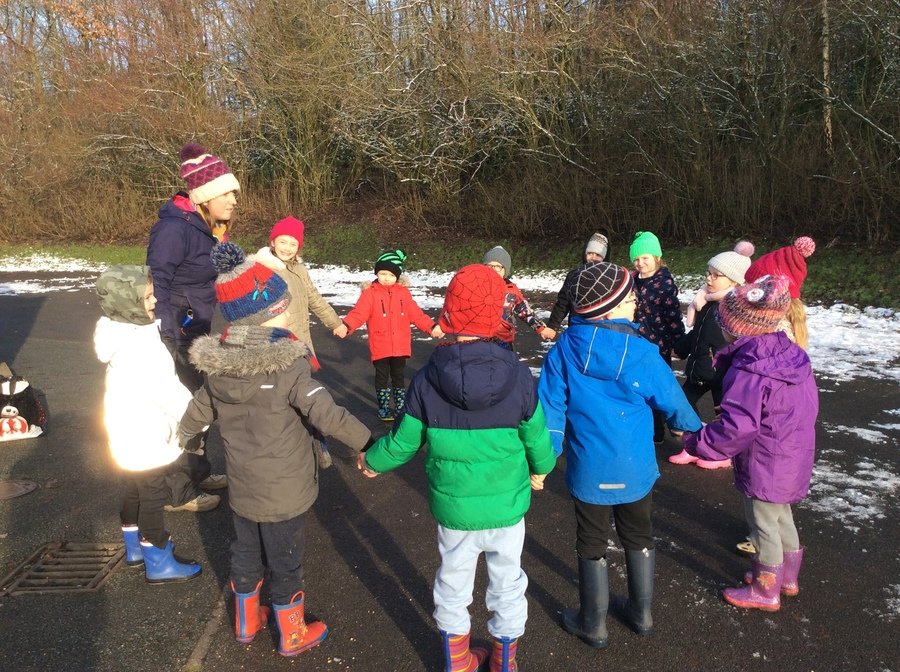 We didn't go into the Forest today, but instead had a great time outside playing games and making bird feeders from apples and peanut butter. After the bird feeders were hung up, an inquisitive robin came to visit.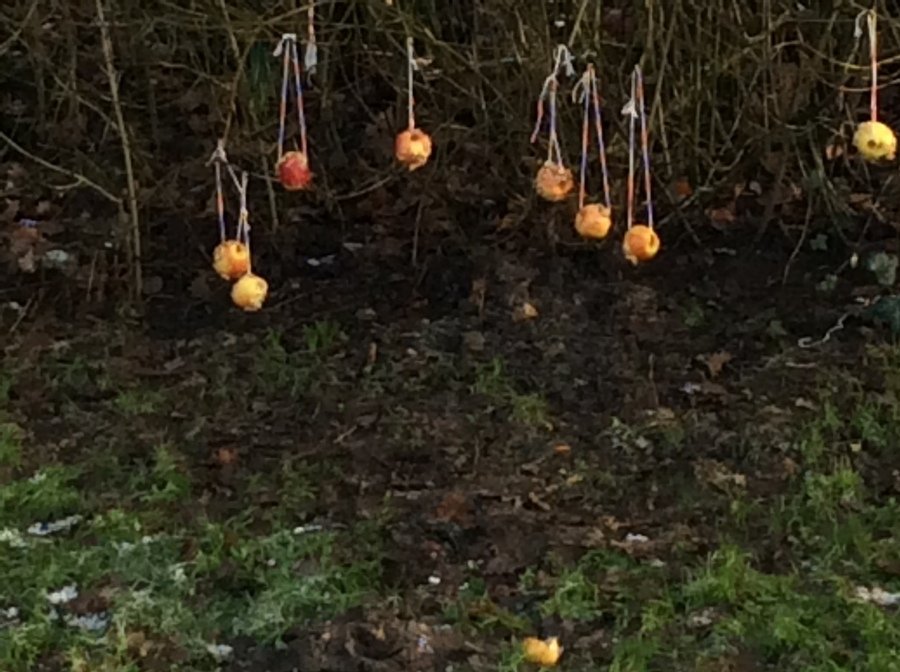 Key Stage 1 our very proud to announce that we have sponsored a Guide Dog puppy called Spirit.
In our latest update - Spirit, who is now 20 weeks old, has been training with Jackie his puppy walker.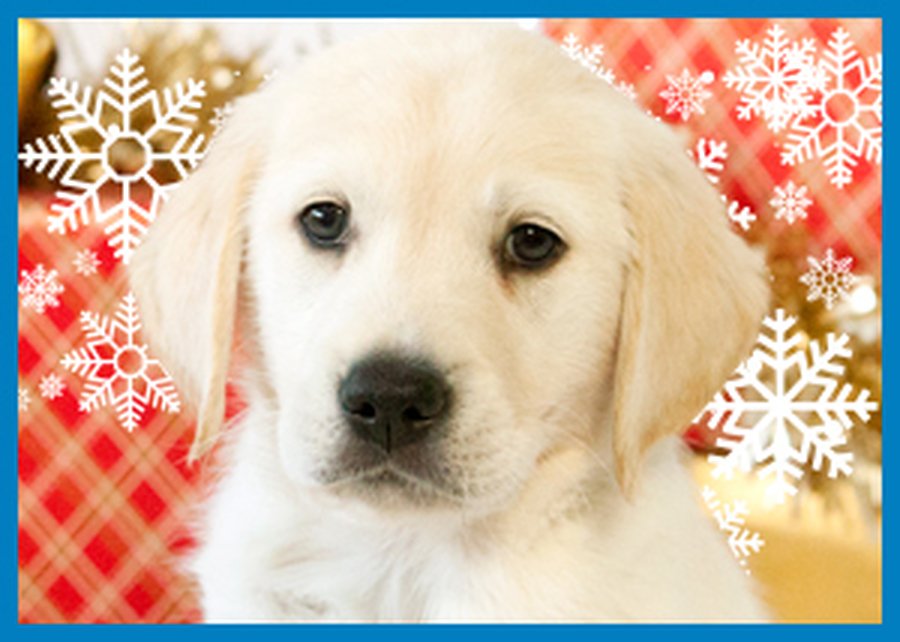 Below is the amazing project board from our Africa project.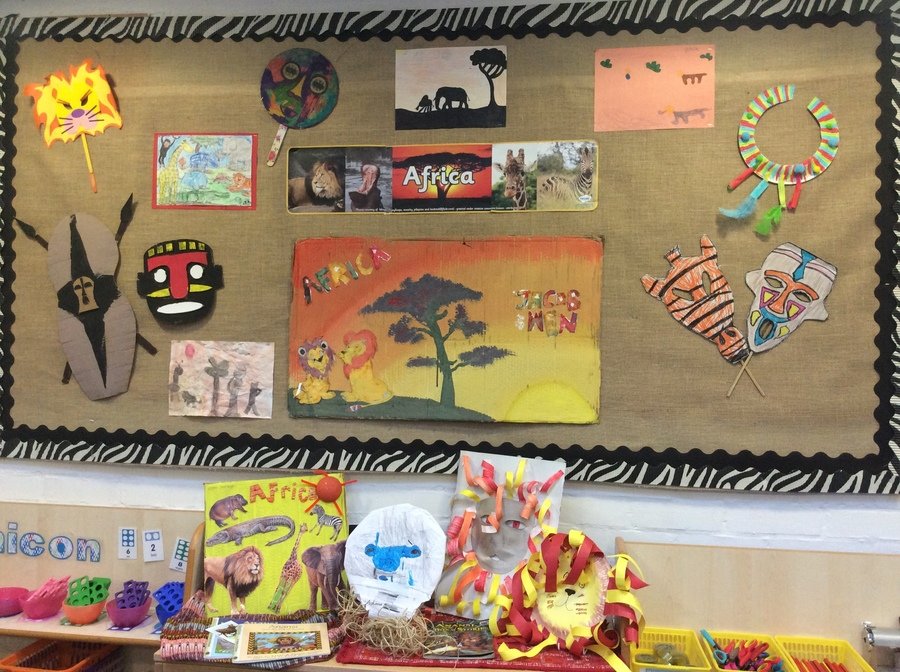 World Book day - 7th March. We had three Horrid Henrys, three Harry Potters, two Goldilocks, two Mary Poppins, two Annas, a Gingerbread girl and other lovely costumes. There was an amazing alligator who came to visit too!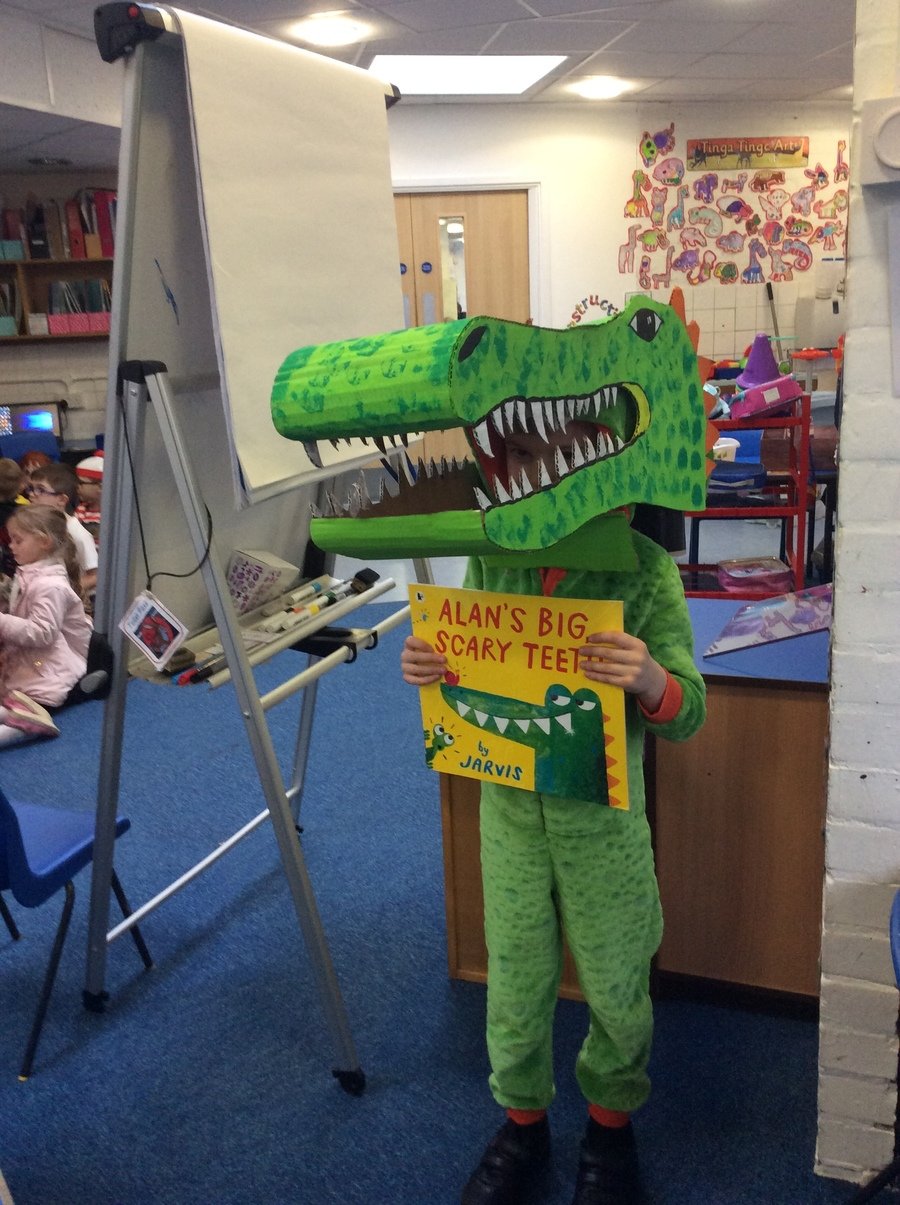 Following World Book Day, some of our parents, grandparents and carers came to visit. They shared books with the children and then we had a very funny story for Story time.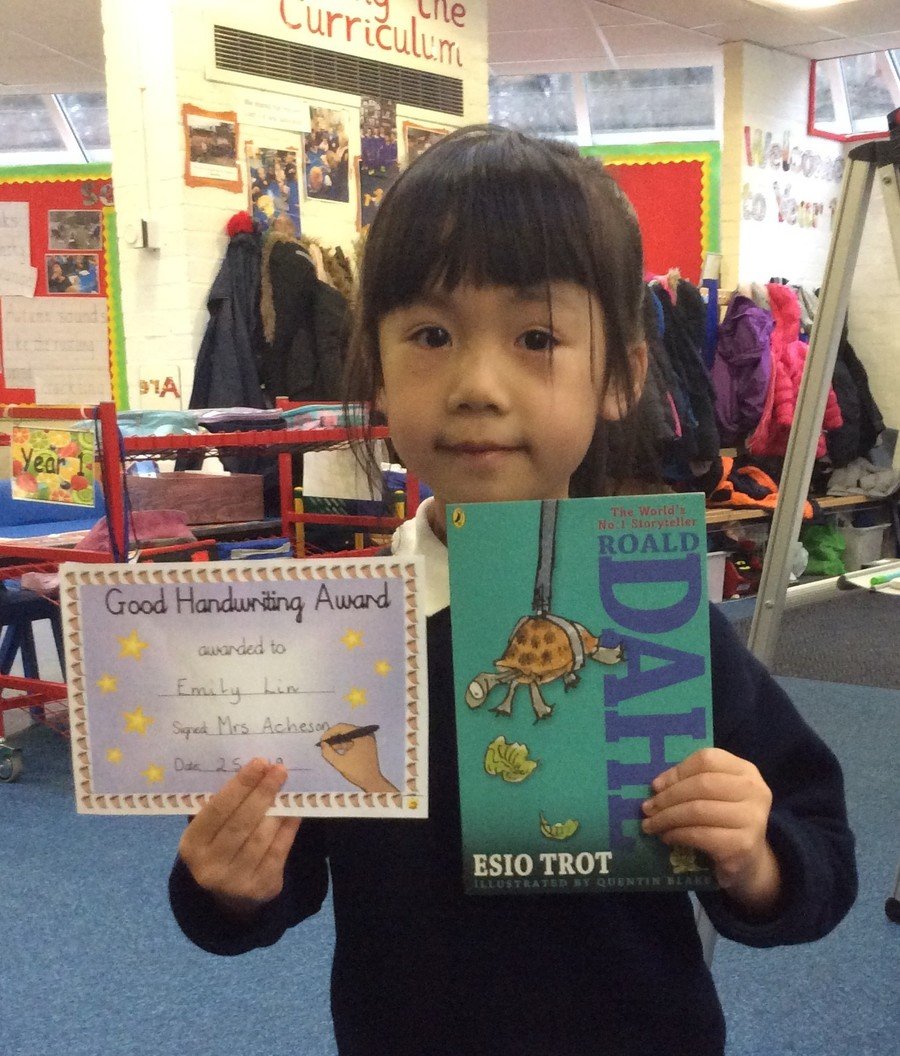 Emily took part in National Handwriting Day on 23rd January. All the children made an excellent effort and Emily was chosen as the prize winner.
We are very proud to have made poppies for the School Poppy Display. The children all look quite 'serious' in their photographs - this is because they wanted to show their 'respect'. Please click on the photographs to enlarge.
We have all been working hard with 'one less' in Maths
All the children will be introduced to a great online resource called Times Tables Rock Stars. You will be provided with a password and you can access this resource from home - details to follow.
on Wednesday 26th September, Year 1 and Year 2 walked to Stalybridge Fire Station. We really enjoyed the trip and learnt lots of things about a fire engine. The Fire Officers, Jane, Russ and Stacy, told us lots of interesting facts.
On Friday 12th October we had our Autumn tasting morning. We had gingerbread biscuits, Parkin, blackberries, hot chocolate with marshmallows and pumpkin soup. All the children enjoyed tasting the food and even those who were not sure about the pumpkin soup! The gingerbread biscuits were very popular and many of the children were surprised by how nice juicy blackberries tasted. All this lovely food helped us to write our Autumn senses poem.
Homework
Our homework is set weekly on Friday and is to be returned to school on Monday morning. You can expect to receive a weekly homework. Please ensure you read regularly - thank you. There is a homework club on Thursdays, for children who have not completed their homework, or those who need a little help.
Ambassador of the Week
Mason is our Ambassador for the week starting 25th March.
Meet the Year 1 Team
You can find us both in the School Staff section in 'About the School'