Year 1 - Mrs Acheson and Miss McCarron
Location, Location, Location
Would you like to be beside the seaside?
English
We will reading the Lighthouse Keeper's Lunch. A story about some annoying seagulls and the clever Mrs Grinling who was determined to stop the seagulls from eating Mr Grinling's lunch! She had to use mustard and other tricks to stop the seagulls.
The children will continue to work hard on the Year 1 common exception words - see the word mat above.
Maths
This half term our work involves addition and subtraction, including word problems. We will work with fractions - one half and one quarter of shapes and numbers. We will be multiplying and dividing. The children will complete a block graph showing their favourite flavour of ice cream.
Computing/Art
The children shall be using Purple Mash and painting and creating pictures of the seaside. The children will have to save and print their own work. We will make graphs.
Geography
Our work about the seaside includes naming and locating the four countries in the United Kingdom and their capital cities. We shall be finding out about Blackpool and as part of our History work, we shall explore how and when people started to visit the seaside.
DT
We will be making our own ice-cream. Warburton's, the Bread People, will be in school on 9th July working with us to make our own sandwiches. Following this visit, we shall make some of our own 'silly sandwiches' eg jam and cucumber, mustard and banana, or other combinations that we think would stop the seagulls from stealing our lunch.
PE
We have PE on Monday and Thursday.
All children require a t-shirt, shorts and pumps for these sessions.
Children are not allowed to wear earrings in school. If they are worn they must be covered at all times.
We shall let you know as soon as possible the date for Sports Day.
Forest School
The children will continue to take part in our very popular Forest School activities. The class is divided into two groups (Group A and Group B) and will attend Forest School on alternate weeks.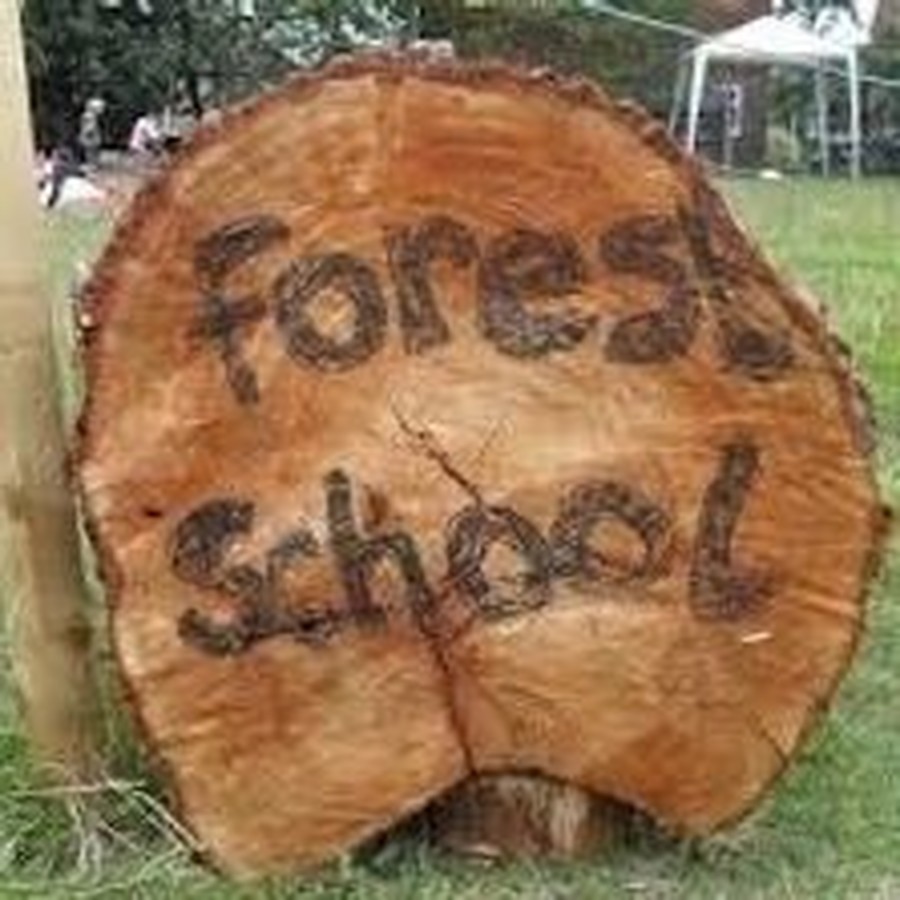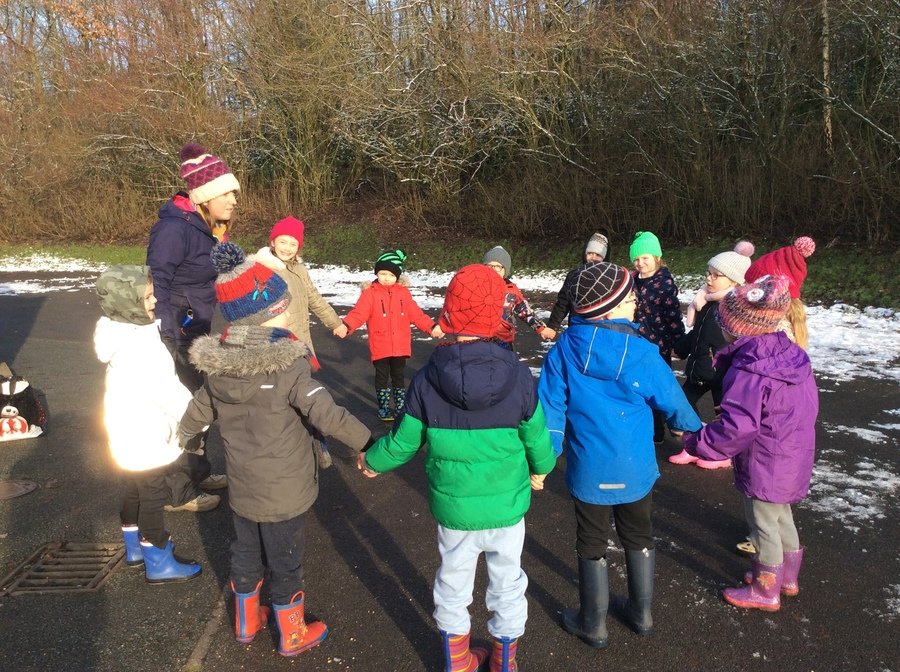 We didn't go into the Forest today, but instead had a great time outside playing games and making bird feeders from apples and peanut butter. After the bird feeders were hung up, an inquisitive robin came to visit.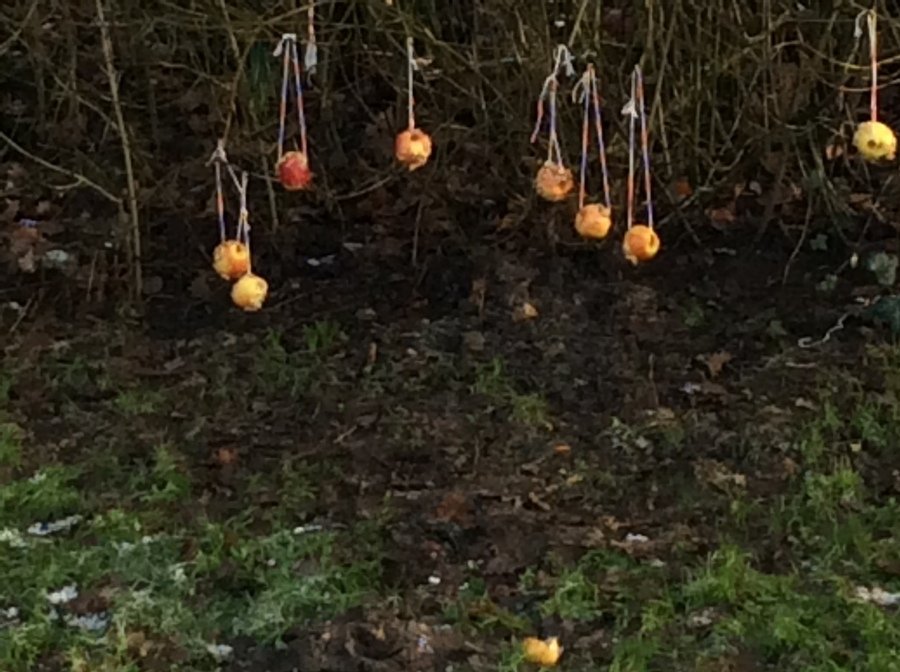 Key Stage 1 our very proud to announce that we have sponsored a Guide Dog puppy called Spirit.
In our latest update - Spirit, who is now 20 weeks old, has been training with Jackie his puppy walker.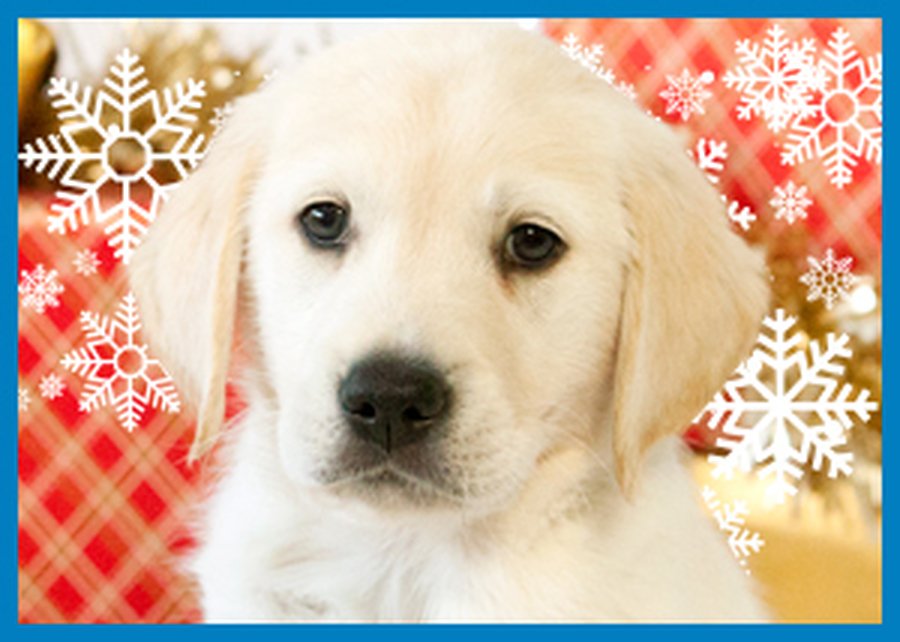 Below is the amazing project board from our Africa project.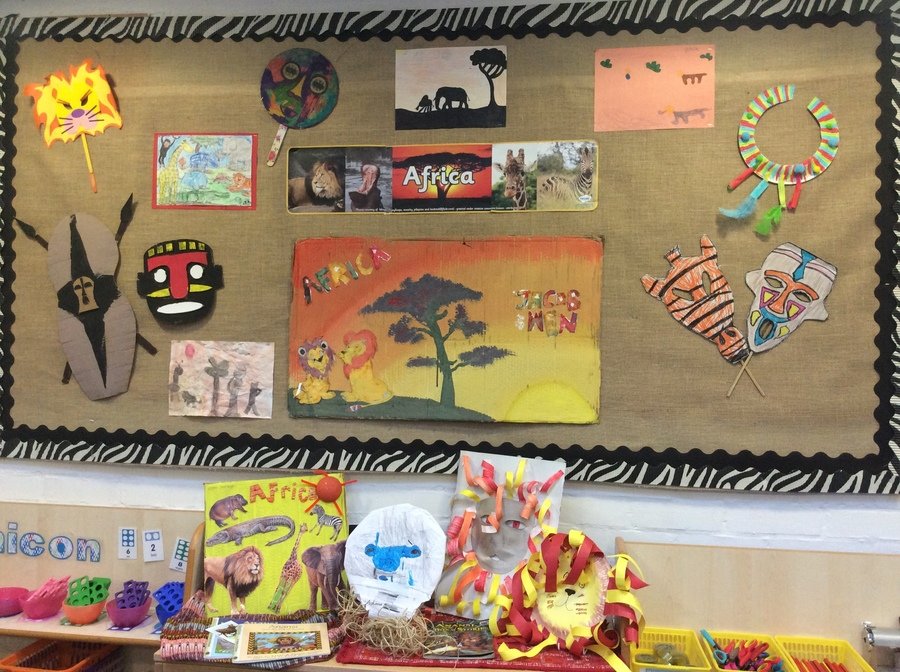 Summer Term 2
Our last half term together will be very busy with lots of exciting events taking place.
Wellbeing week - week beginning 17th June
Warburton's visit to school - 9th July
Sports Day - date in July to be confirmed
School trip to Blue Planet - 23rd July
End of year reports will be sent out in July and arrangements will be made for the children to visit their Year 2 teacher and classroom
-------------------------------------------------------------------------
World Book day - 7th March. We had three Horrid Henrys, three Harry Potters, two Goldilocks, two Mary Poppins, two Annas, a Gingerbread girl and other lovely costumes. There was an amazing alligator who came to visit too!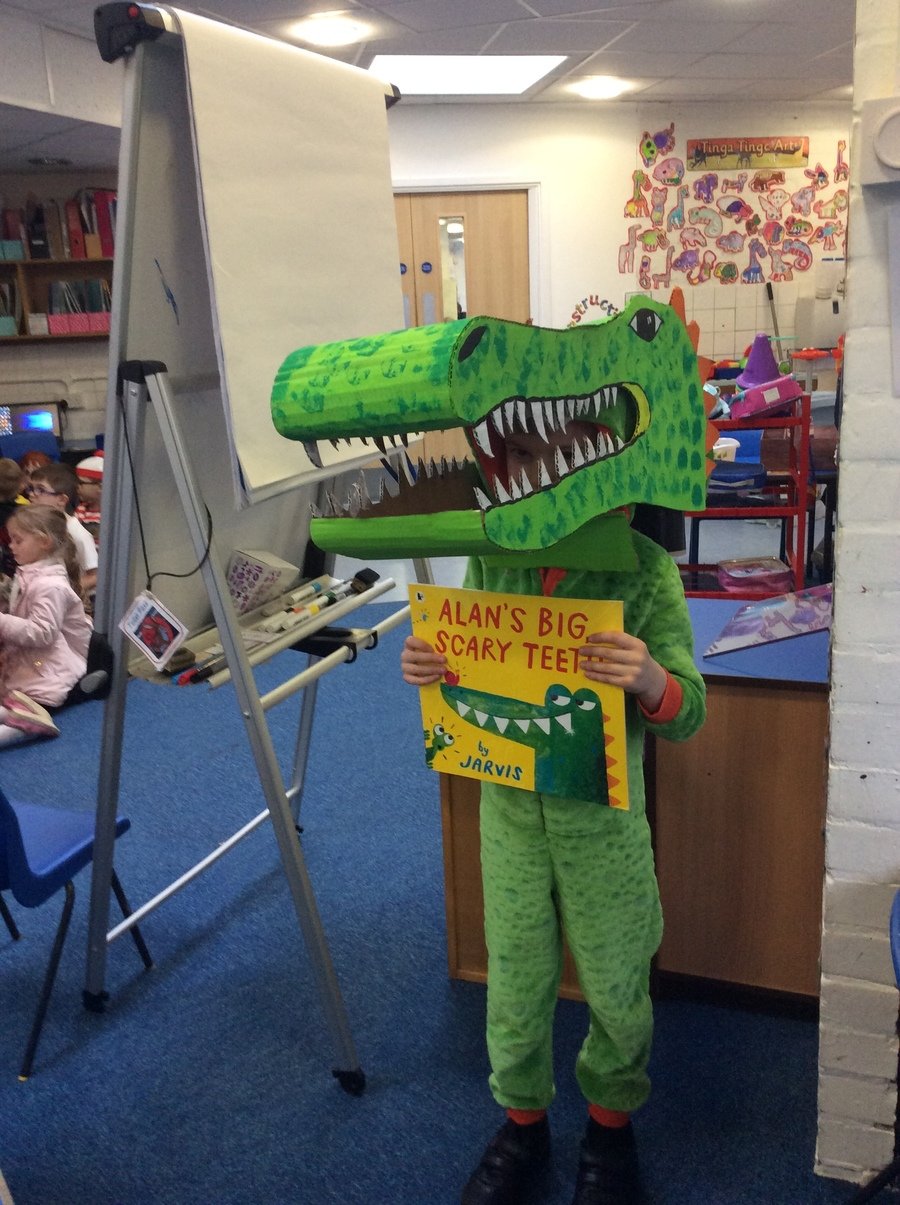 Following World Book Day, some of our parents, grandparents and carers came to visit. They shared books with the children and then we had a very funny story for Story time.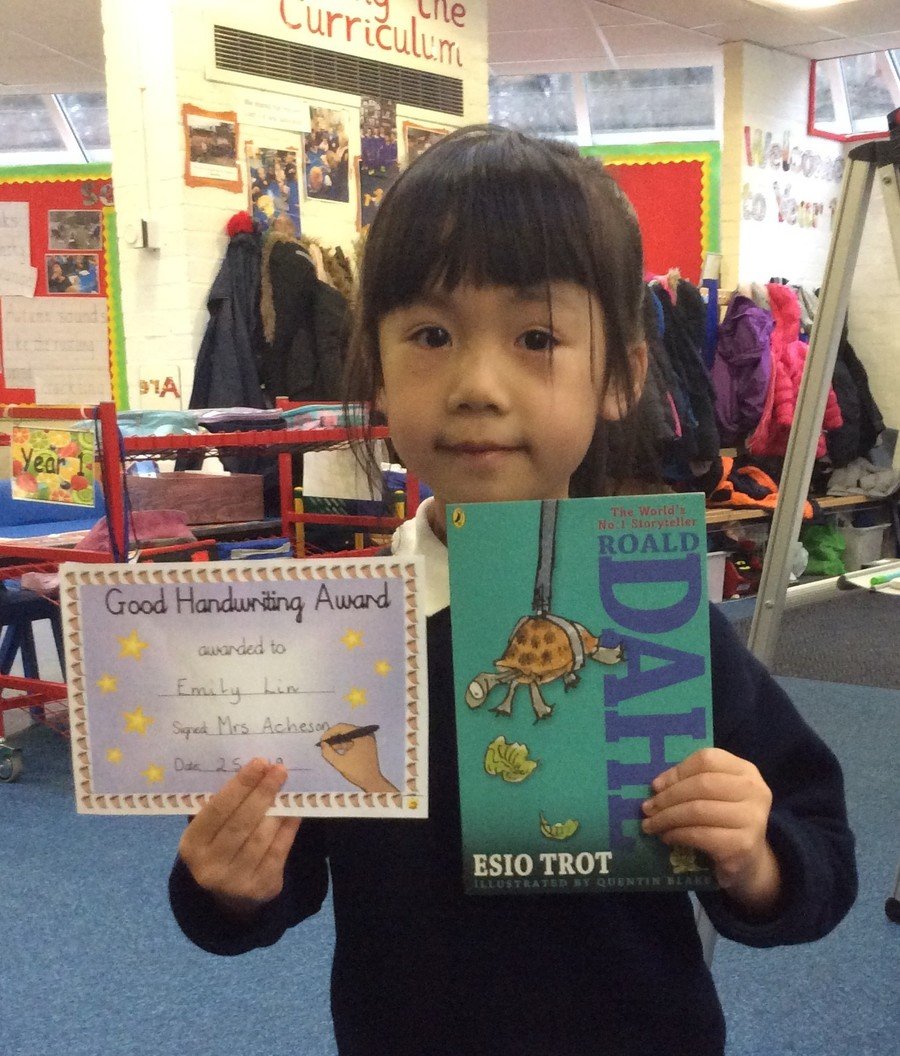 Emily took part in National Handwriting Day on 23rd January. All the children made an excellent effort and Emily was chosen as the prize winner.
We are very proud to have made poppies for the School Poppy Display. The children all look quite 'serious' in their photographs - this is because they wanted to show their 'respect'. Please click on the photographs to enlarge.
We have all been working hard with 'one less' in Maths
All the children will be introduced to a great online resource called Times Tables Rock Stars. You will be provided with a password and you can access this resource from home - details to follow.
on Wednesday 26th September, Year 1 and Year 2 walked to Stalybridge Fire Station. We really enjoyed the trip and learnt lots of things about a fire engine. The Fire Officers, Jane, Russ and Stacy, told us lots of interesting facts.
On Friday 12th October we had our Autumn tasting morning. We had gingerbread biscuits, Parkin, blackberries, hot chocolate with marshmallows and pumpkin soup. All the children enjoyed tasting the food and even those who were not sure about the pumpkin soup! The gingerbread biscuits were very popular and many of the children were surprised by how nice juicy blackberries tasted. All this lovely food helped us to write our Autumn senses poem.
Homework
Our homework is set weekly on Friday and is to be returned to school on Monday morning. You can expect to receive a weekly homework. Please ensure you read regularly - thank you. There is a homework club on Thursdays, for children who have not completed their homework, or those who need a little help.
Ambassador of the Week
Leon is our Ambassador for the week starting 10th June.
Meet the Year 1 Team
You can find us both in the School Staff section in 'About the School'