Year 2 - Ms Steele and Ms Rickards
This term we will be exploring Africa!
What a hot place this is!
In English we are going to be reading some great stories this half term all about a spider called Anansi from Africa. He always plays tricks on his friends but there is a good moral at the end of each story.
First we are going to read lots of his stories and even try acting some of them out. We will be writing our own Anansi stories and think of our own tricks to play.
We will then be writing a explanation test about how to create clean water. We will try to think of our own ideas of how to do this.
This half term in maths we will be creating tally charts and pictograms, some based on Africa. We will be looking at the fractions, ½ , ¼, and 1/3 . We are going to look again at time. We can tell the time to the nearest quarter of an hour and we will now look at the nearest 5 minutes. Every Wednesday, if the weather is fine, we will continue have our maths lesson outside. One activity outside will be to explore position and direction. Can we give instructions for partners to follow?
In geography we will be finding out where Africa is and what it is like to live there. We will be looking at lots of different types of maps, pictures and videos.
In science we will learning about the different habitats. We will look at our local environment and then compare it with Africa. Which animals live in each place? How are they different?
In our DT we will making our own African masks. We will look at some from Africa and use ideas from them to design our own. We will then use cardboard, foam, paper and paint to create our own.
Forest School
Forest school will now only be on a Monday afternoon. Half the class will attend one week and the other half the next. We will also be using the forest are for our maths sessions on a Wednesday morning.
We had a great time on the Santa Express and I am trying to get the photos off the ipad! Keep looking and I will put them on soon.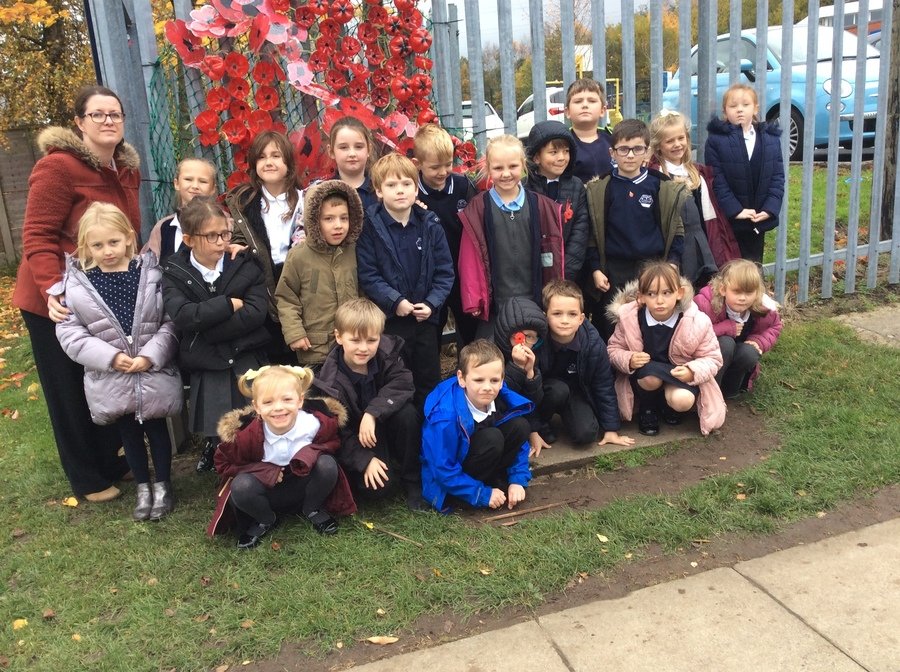 Year 2 with our fantastic remembrance display.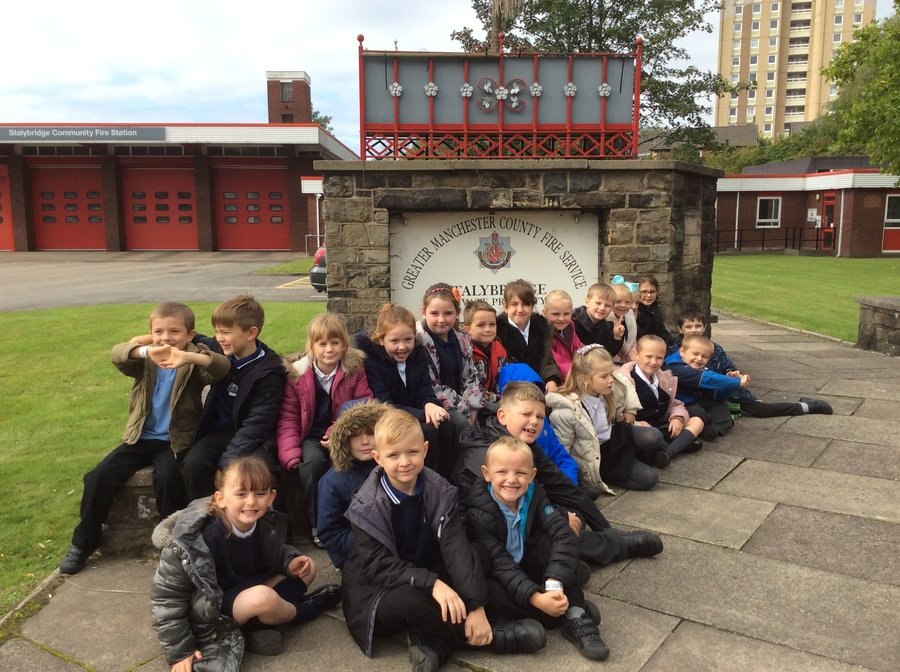 We had a brilliant time at Stalybridge Fire Station.
See Year 1 page for more pictures.
We have made a great start with our maths learning. We have used different equipment to show different numbers.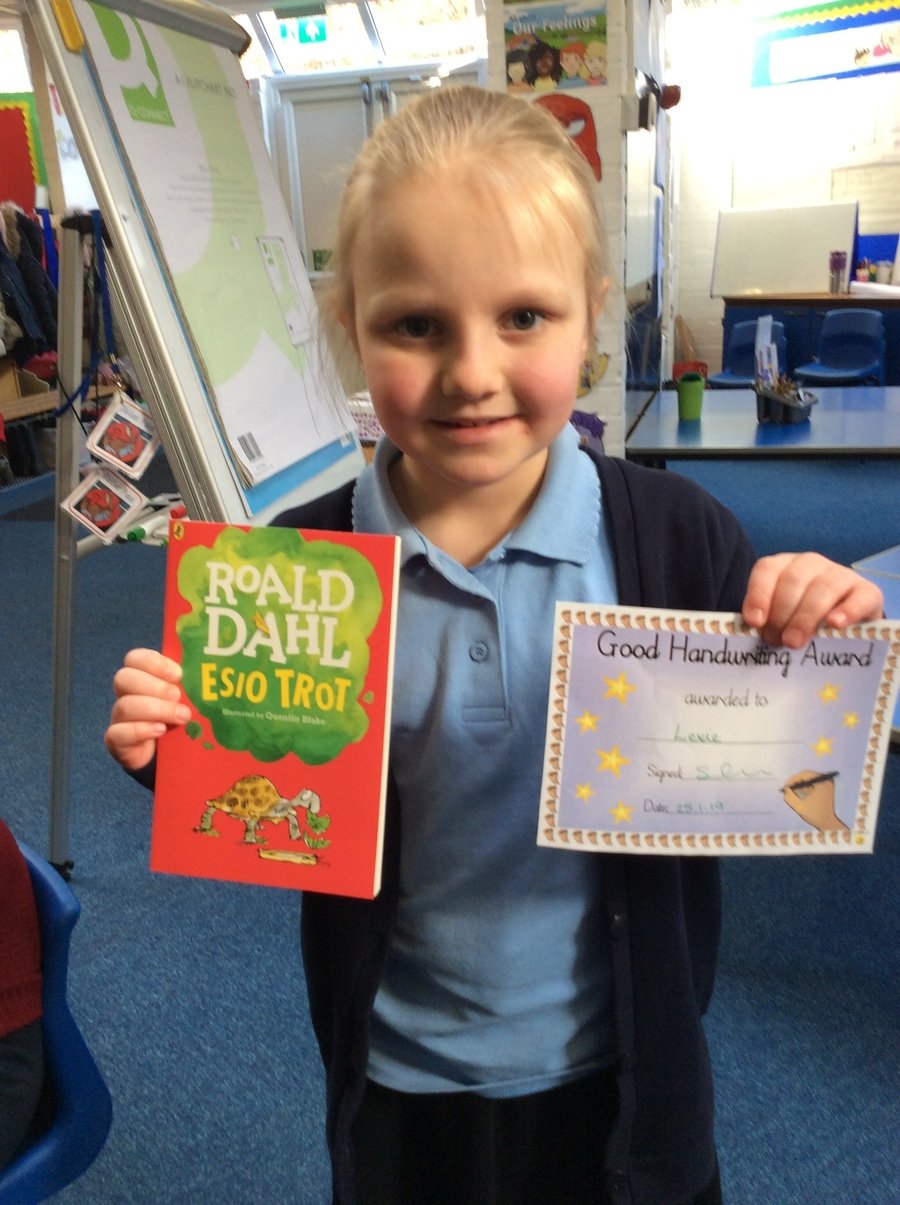 Lexie was the prize winner for our National Handwriting Day on 23rd January.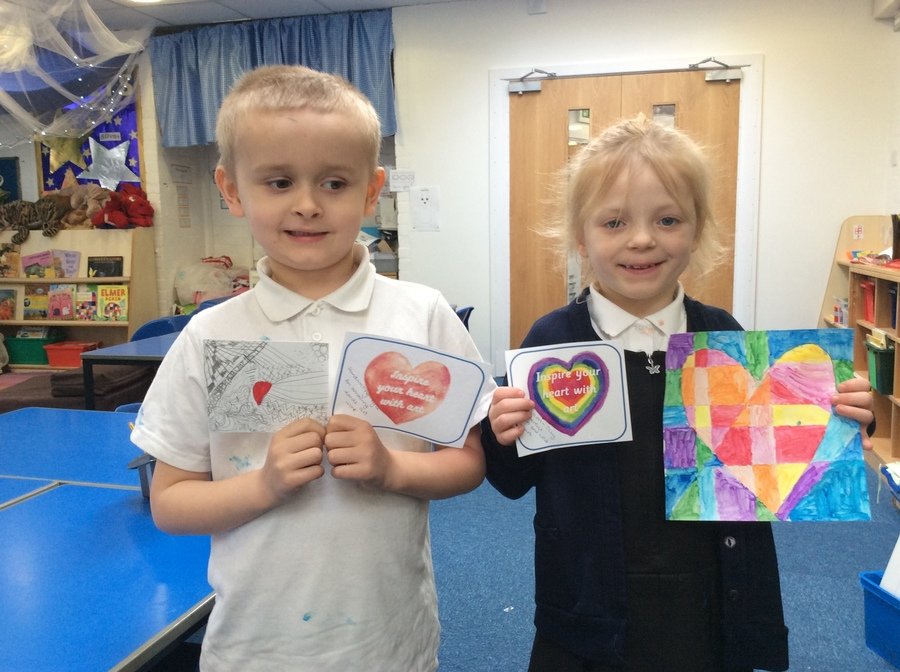 Kyle and Tilly thoroughly enjoyed our Heart for Art day. Well done for working so hard and producing such lovely work.
We have been botanists and looked closely at plants.
Homework
Our homework is set weekly on Friday and is to be returned to school on Monday mornings. You can expect to receive 1 pieces of homework every week, Literacy or Maths. Ms Rickards runs a homework club on a Thursday, for children who have not completed their homework, or those who need a little help.
Our reading books should be read as often as possible and brought into school every morning. As little as 5 minutes a night can help your child so much!
Other Information
PE this term is on Monday and Thursday. Please remember, your PE kit should be in school all week.
AMBASSADOR OF THE WEEK!
Jayden is our Ambassador for the week starting 25th March.
Important dates this half term:
7th Jan - Inset day
Week beg 11th Feb - Year 2 assembly
15th Feb - Break up for half term
Times Table Rock Star!
Who will be the rock star of the week?
Click above to improve your score!
Have a look at the website Oxford Owl at home with your child. If you sign up for free, there are hundreds of free ebooks for your child to read which are directly from our school reading scheme.