Excuse the squinty eyes in the video, the sun was shining at my face!
24th April 2020. Hi everyone. Don't forget that we are thinking about People Who Help us this term, and our wonderful Key Workers. Here is the story of the week and the meet and greet sheets are at the top of the page to download. I have seen some lovely stuff on Tapestry where you have been thinking about what doctors do and making some creative work on x rays and so on. Well done everyone. Don't forget to send us your pictures of you having fun and learning.
23rd April 2020. Hello everyone Happy St Georges day to you all. I wonder what activities you could think of for St Georges day? Yesterday Phoebe had a fabulous idea and drew round her body, then labelled it with what a doctor would know is inside like heart and lungs. It was really nice to see her work on Tapestry. Don't forget to upload pictures of the fun you are having so that we can all be in touch with each other. Wild Bank are on Twitter now too- have a look at what is going on by clicking here.
22nd April 2020. Come on and help me make a kite to fly x
22nd April 2020 I had a go at making a windsock out of materials I had at home. Can you make one too?
22nd April 2020 It's time for a Doctor themed maths quiz! You can find the answer sheet to download and print off in the document list above, if you don't have a printer then just use any paper you have. Please upload your answers to tapestry for us all to see. Good Luck, see if you can get more right than me!
22nd April 2020 Hi everyone. What a wild and windy morning it is today! Our topic is Key Workers- People Who Help Us, and we are thinking about all the wonderful doctors who are keeping us safe at the moment. In the true nature of Early Years education though, I have been seriously diverted by the wind today, and if we were all together I would have got out lots of materials for making streamers, wind socks and kites. All you need is tape, sticks, paper and string- anything else is a bonus. How many people can make and upload something today that flies or flutters in the wind? I'll make a gallery to show off all your wonderful work x
21st April 2020 Bedtime story. The Blue Balloon by Mick Inkpen. Watch out the the cameo role played by Luna x. Its a bit windy so turn the volume up x
21st April 2020 I have had lots of lovely work shown on Tapestry in the last couple of days, from children baking, to people practicing their handwriting and learning their phonics. I've seen fabulous trampoline dens and amazing playdough giraffes and am really proud of how hard you are all working, playing and staying brave and strong. If you want to work on your handwriting and letter formation, you can download a guide here, and if you want to work on number formation, you can download a guide here. Don't forget handwriting doesn't have to be done with a pencil and paper- you can use a finger in a tray of flour, or a stick in the mud or sand. You can roll it out in playdough or use a wet paintbrush on a dry wall (just water though). You can use chalk on the floor, and then go over with the paintbrush and water to clean up later. EYFS learning is about fun and play. x
20th April 2020 Bedtime story today is Billy's Beetle By Mick Inkpen. Can you spot the sign for Beetle? and the one for Hedgehog?
Good Afternoon everyone! I hope that you all had great Easter. I have had a go at making an x-ray of my hand, do you think you could have a go? Get as creative as you like!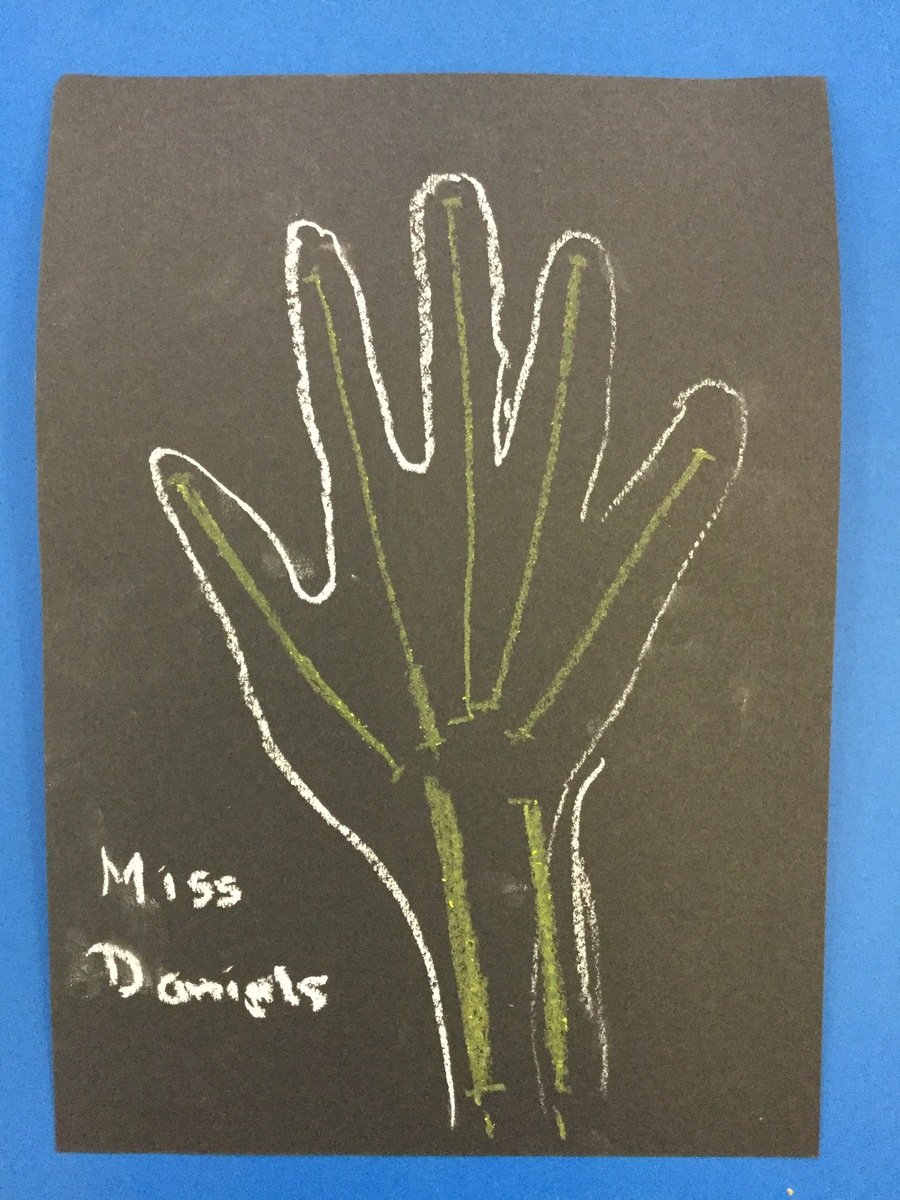 20th April 2020 Hello lovely Wild Bankers! Good morning. Our Topic this half term is all about People Who Help Us, and Miss Daniels and I have decided to alter it a little bit to become 'Key Worker- People Who Help Us' as we are thinking so much about Key Workers at this time. The first story of the week is all about a Doctor called Miranda and what she gets up to in a day at her GP surgery. The meet and Greet book for this week can be downloaded here. Don't forget that if you don't have a printer, you can draw the pictures and answer the questions in your purple book instead.
You could have a go at making a homemade stethoscope to role play being a doctor, or if you have some tube and a balloon, you could try making a working stethoscope
This image links to some lovely crickweb interactive games for phonics for you to try too. Don't forget there are books on Epic that are linked to our topic for you to read. If you need links to register please email for support.
We are working hard to provide you with activities, stories, videos and support at our end and are being hugely rewarded by the feedback you are leaving on Purple Mash, Tapestry and via email. Where it is suitable, we are collecting pieces of your work and photographs and adding them to our gallery page. Each weekend, the main Foundation Stage page will be remade, and the week's work moved to another page headed with the date of the week. This is because we know that in Foundation stage we like to go back and repeat activities, reread stories and try things again, so your work suggestions will all still be there, but this page will start fresh and new each week.
Please keep logging on to this page to collect more ideas and activities, and don't forget to use your tapestry app too to share photos of what you have been up to while we are not together.
Stay safe and well everyone and we will see you soon, love Ms Hill, Miss Daniels, Miss May and Mr Fletcher.
Bluebell is our class rabbit. Pupils help care for our rabbit, and we discuss the importance of caring for our pets and our environment. Bluebell enjoys exploring our outdoor play area with the children too. At the moment she is playing out in Ms Hill's garden with Daffodil and Nutmeg